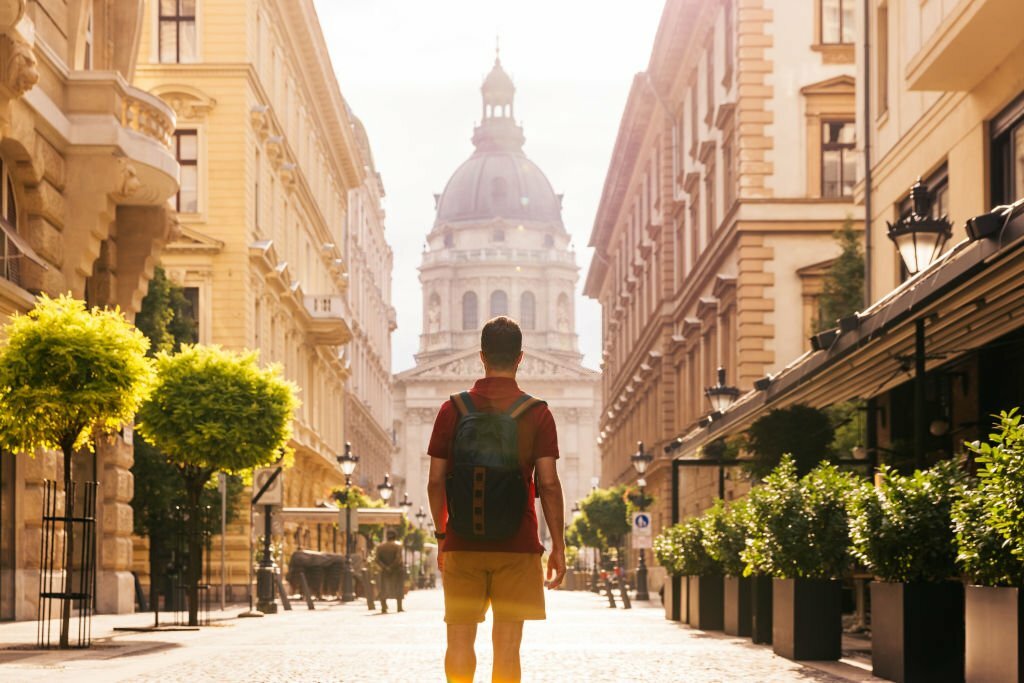 Budapest is a city full of history and fascinating sights. You'll come across various unusual attractions that promise a memorable visit. This includes extraordinary spots hidden under the city's grand and theatrical streets. Some experiences even give you unique stories to share, like visiting where Count Dracula once contemplated life's big questions.
In Hungary's capital, you'll find many strange places waiting to be discovered, often just off the beaten path from the city's main draws. There's a mix of solemn monuments, ancient alchemists' workshops, and odd museums, not to mention bars with the most unexpected themes.
Here's a glimpse at what makes Budapest an interestingly unique (and slightly spooky) destination.
Location: Budapest, Irányi u. 25, 1056 Hungary
The Red Ruin bar, found in the heart of Budapest, is themed around communism, complete with red lighting and a playful take on political history. Since Hungary was once a part of the Soviet Bloc, making light of communism through jokes and comedies has been a way to bring a smile to Hungarians' faces. Budapest's Jewish Quarter is home to many ruined bars, which are bars built within old ruins.
Each bar has its own set of unusual decorations. For example, the Red Ruin bar makes fun of old communist propaganda. Here, you can enjoy a drink among witty takes on communist-era murals and posters, all surrounded by red brick walls.
This bar is known for its wide variety of excellent beers from across Eastern Europe, as well as Hungary's famous fruit brandy, Pálinka. Instead of the well-known 'Enjoy Coca-Cola' sign, you'll find a 'Enjoy Communism' sign that makes for a fun photo opportunity.
Location: Budapest, Szent István tér 1, 1051 Hungary
St. Stephen was made a saint in 1083, the first king of Hungary. During this event, they opened up his tomb. People say that his right arm was still perfectly preserved, even though the rest of him was not. They quickly removed this arm to save and honor it as a holy relic.
When you go to St. Stephen's Basilica in Budapest, you're in for more than just a look at a stunning Neo-Renaissance structure with its towering dome. Inside, there's a strange but particular item – the mummified right hand of St. Stephen, Hungary's first king.
This revered hand is known for its blessings on visitors and the miracles it's said to have performed for those who pray before it. You can see the hand lit up briefly when you drop a 200 Ft coin into a machine. To view the hand, head to the right side of the Basilica. Insert a 200 Forint coin, and a light will shine on the Holy Right briefly.
You can also find a spot to see the city from above and a museum where you can see artifacts. You don't need a ticket to see the Holy Right, but they recommend a 200 HUF donation when entering the cathedral.
Location: Budapest, Radnóti Miklós u. 18, 1137 Hungary
The love for pinball is still strong in Budapest, especially at the Flippermúzeum. This unique museum is all about the beloved arcade game. When you buy a ticket, you can play unlimited games, making it feel like an 'interactive museum.' This place not only has classic pinball machines but also features modern and rare ones that are tributes to arcade enthusiasts and pop culture. For instance, there's a pinball machine that shines with the gold hues and design of R2-D2 from "Star Wars."
Over 30 years ago, Data East released a pinball game called 'Time Machine'. Since then, the name has taken on a deeper meaning. Nowadays, all pinball machines are like time machines, relics from a bygone era. Even though arcades have lost their shared place in entertainment, the number of pinball machines in collectors' hands is growing.
The memories of playing or waiting for a turn at the arcade are timeless and never lose their color. Pinball brings to life a magical world of childhood dreams, a world that continues to live on in us as adults.
This world of dreams, with its bright lights, vivid colors, and captivating sounds, comes back to life through our 'time machines' at this thoughtfully curated exhibition. Our inner child calls us to a memorable journey, a meeting with the past we'll always cherish.
Location: Budapest, Vajdahunyad stny., 1146 Hungary
Vajdahunyad Castle, located in City Park in Budapest, Hungary, replicates the Hunyad or Corvin Castle in Romania. This castle was created in 1896 for the Millennial Exhibition, which marked 1,000 years since the Hungarians settled in the Carpathian Basin in 895.
Vajdahunyad Castle is an impressive sight in Budapest that connects to the tale of Count Dracula, as portrayed in the iconic film. This castle is nestled by a boating lake in City Park, a serene spot amidst the bustle of the city. The castle's architecture is a mix inspired by various regions of the historic Kingdom of Hungary, and it especially mirrors the Hunyad Castle in Transylvania.
An interesting detail about the castle is that it started as a temporary structure made of cardboard and wood for a millennial exhibition. However, it was later reconstructed in permanent materials like brick and stone due to its popularity. When you visit, look for the bust of Béla Lugosi, the famed actor who brought Count Dracula to life on the silver screen in 1931.
Vajdahunyad Castle combines architectural styles representing some of the most significant periods in Hungarian history. This varied complex showcases designs from the Middle Ages to the 18th century. It includes Romanesque, Gothic, Renaissance, and Baroque styles. The designs are inspired by notable structures such as the Romanesque church from the village of Jak and the grand Baroque palace of Prince Paul Esterházy I.
Location: Budapest, Tárnok u. 18, 1014 Hungary
The Golden Eagle Pharmacy Museum in Budapest is a fascinating place that takes you back to the world of alchemy. Inside, you'll find a meticulously recreated alchemist's laboratory, as well as authentic Renaissance and Baroque pharmaceutical artifacts.
The museum hosts ever-changing temporary exhibitions alongside its permanent collection, ensuring there's always something new to discover.
Step into the world of a medieval alchemist's laboratory at the Aranysas Patika Muzeum, also known as the Golden Eagle Pharmacy Museum. This unique museum, nestled in Budapest's Buda Castle district, is a treasure trove of curious artifacts dating back to the Middle Ages.
Inside the cozy gallery, you'll encounter a fascinating array of elixirs, preserved animal specimens in jars, herbs in bowls, and ancient medicine books from the 17th century. The museum's decor is equally eccentric, with peculiar items like dried bats and shrunken heads adorning the space, reminiscent of a medieval movie set.
Tickets are available for just 700 Ft, making it an affordable and intriguing visit for those interested in the mysterious world of alchemy and ancient medicine.