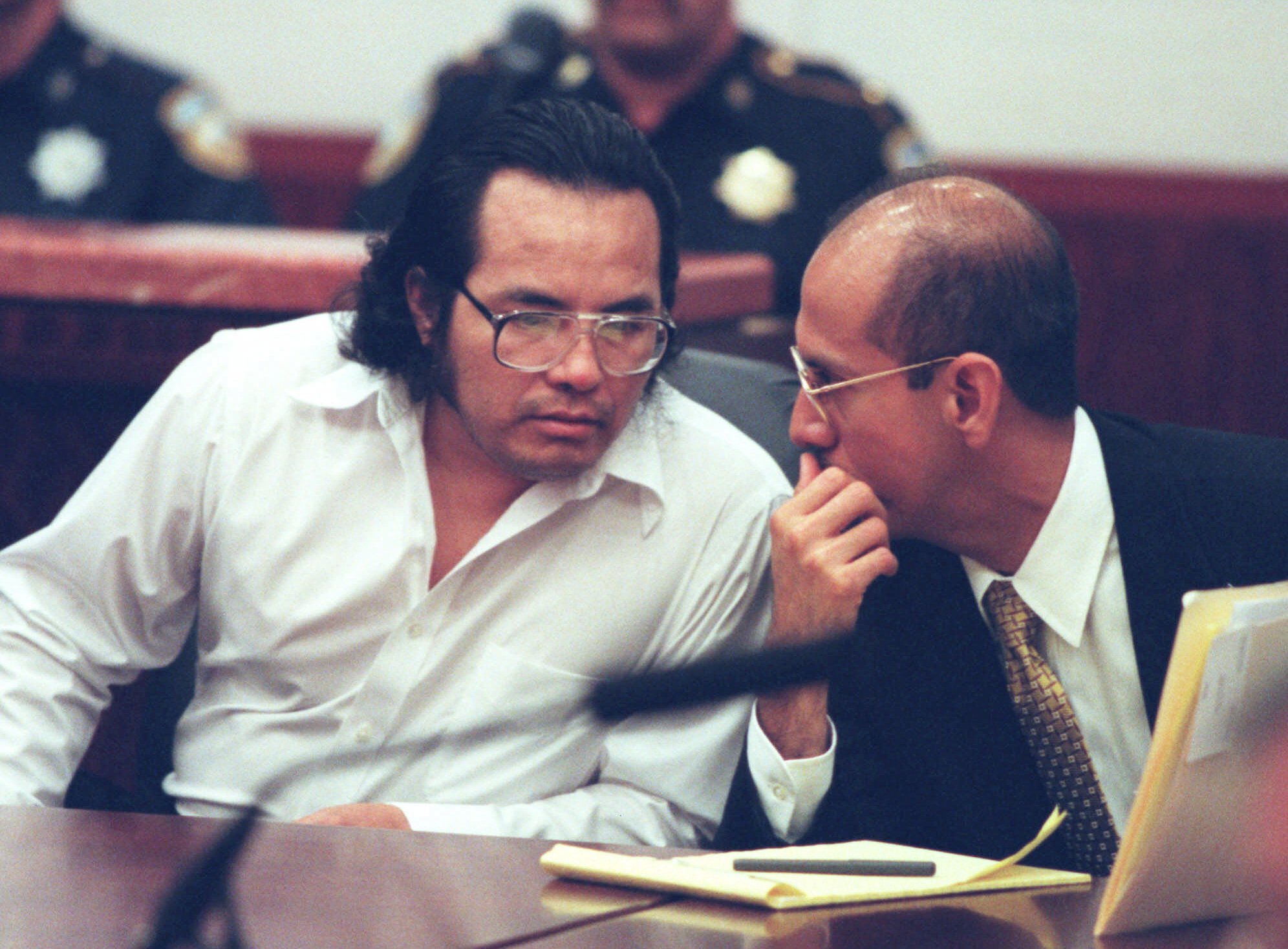 Stephen Peter Morin left a terrifying trail of young women's bodies nationwide. He killed them because he had a deep desire to take their lives.
In 1984, a prosecutor in court compared Morin's treatment of young women to how someone casually discards a used paper cup after drinking. It took the jury only 10 minutes to declare Morin guilty of shooting and killing a San Antonio woman three years prior.
On December 11, 1981, Morin committed a shocking act. He shot two women in the parking lot of a popular restaurant on the North Side of town. One of the women survived, but tragically, Carrie Marie Scott, aged 21, did not. Morin had no connection to these women; he seemed to kill simply because he enjoyed it.
Suspected of taking the lives of 47 individuals, including women, girls, and men, between 1969 and 1981, Stephen Peter Morin ultimately admitted to a single charge of capital murder. Surprisingly, he refused legal assistance for appeals or delays in his execution.
In 1985, Morin achieved the grim distinction of becoming the first person in Bexar County to be executed for a crime. However, the execution was plagued by difficulties, as it took executioners a staggering 45 minutes to locate a suitable vein for the lethal injections due to the toll years of drug use had taken on his body.
Morin's name is indelibly etched in the list of Texas serial killers. Let's see some of San Anton Antonio's infamous murderers and eerie connections to the Alamo City.
David Villarreal, a wanderer with a troubled past, was in the spotlight in 1981. By then, he had a criminal record that included mass murder and the gruesome act of bashing a 71-year-old man and beating a 19-year-old to death with a fence post in San Antonio.
Villarreal is believed to have committed heinous acts of mutilation and murder against five to seven men in San Antonio and Dallas between 1979 and 1981. However, he was officially convicted of five of these killings in two separate trials, leading to multiple life sentences. At the age of 67, he remains behind bars.
His arrest in Dallas in March 1980 led to a startling confession to the police, claiming responsibility for the deaths of seven people, three of whom were in San Antonio. Yet, he was only indicted in San Antonio for two of these killings, as the third victim was never recovered.
During his legal proceedings, law enforcement and his court-appointed defense attorney suggested that Villarreal might be gay, a claim he vehemently denied. In his San Antonio trial, he even lashed out at his attorney for delving into his sexual orientation.
Ultimately, Villarreal pleaded guilty to the San Antonio murders and was handed down two life sentences.
Angel Maturino Reséndiz embarked on a chilling 13-year killing spree in Bexar County, starting in 1986. Known as the "Rail" road Killer" because he would ride trains and disembark to commit his heinous acts, he is linked to 15 deaths across the United States, three occurring in Bexar County.
Reséndiz' were horrifying. He used rocks, a pickaxe, and other blunt objects to end the lives of his victims within the confines of their homes. Tragically, some of his female victims also endured sexual assault.
Adding to the nightmare, he would often linger in his victims' homes, even partaking in their food. Furthermore, he would take personal mementos and arrange them alongside their drivers, seemingly to delve into the details of their lives.
In a turn of events, Reséndiz surrendered to Texas authorities in 1999. He was convicted of capital murder a year later and met his end via lethal injection in Huntsville in 2006, marking the conclusion of a reign of terror that had haunted many for over a decade.
In 2019, Johnny Joe Avalos, a 36-year-old from San Antonio, admitted to being a serial killer and received two life sentences for his horrific crimes. His crimes involved the rape and strangulation of five women.
Avalos' journey into criminality began in 2015 when he was arrested for the rape and strangulation of 15-year-old Natalie Chavez. Her lifeless body was Tragically discovered beneath the Vera Cruz Street bridge over Apache Creek on the West Side in December 2014.
The authorities later uncovered additional victims, including Rosemary Perez, aged 28, in January 2015; Genevieve Ramirez, aged 46, in March 2015; and Celia Lopez, aged 29, in April 2015. Avalos was also connected to the death of Vanessa Lopez in 2016.
Most of his victims were involved in prostitution in the neighborhoods where Avalos resided, according to the Bexar County District Attorney. DNA evidence on the victims and at the crime scenes conclusively tied Avalos to these gruesome murders.
Furthermore, Avalos openly confessed to his involvement in some of these killings during a jailhouse interview with KENS 5. He also admitted his guilt to a fellow inmate in Bexar County jail and an acquaintance, shedding light on the terrifying extent of his crimes.
Tommy Lynn Sells, who was described as a drifter, was linked to the deaths of more than a dozen people. But the strangling death of 9-year-old Mary Beatrice Perez likely lingers in the minds of many locals.
Mary was kidnapped at a Fiesta event in 1999 and found in a ditch on the West Side a week later. She'd raped and strangled to death.
Nearly a year later, locals learned that Sells killed her. He'd been apprehended in connection with the killing of another child when he told authorities that he kidnapped the 9-year-old girl. He also described a string of other killings.
Sells pleaded guilty and was convicted of capital murder in 2003 for Mary Bea's and, in exchange, got a life sentence. He was executed by lethal injection 2014 for stabbing a 13-year-old in Val Verde County.
In the 1930s, Joe Ball committed some of the most horrifying crimes in Bexar County. He hired several women to work at his rundown tavern in Elmendorf, wooed them, and then killed and dismembered them.
Although only two bodies were found, detectives suspected there could be five or six more victims. Ball, also known as "The "alligator Man, Butcher of Elmendorf and Bluebird of Elmendorf. Ball had" pet alligators that he kept in a pond near his home. It's believed that he fed dogs and possibly some of his victims to these alligators.
After the end of Prohibition and throughout the 1930s, Ball hired waitresses to work at his tavern in Elmendorf. When a few of them disappeared, locals became suspicious. A foul-smelling, oily barrel at the tavern led police to him. As law enforcement was about to question him, he ended his own life.
Genene Jones, often called the "kill nurse," is "believed to be involved in the deaths of at least 40 infants. After being convicted of murder in 1984, Jones has spent most of her adult life behind bars, although she was nearly set free a few years ago.
Genene was a pediatric nurse in the hospital in San Antonio and the Hill Country and, at one point, worked at Bexar County Hospital, now known as University Hospital.
As per reports, she had 99 years of imprisonment for the murder of Chelsea McClellan, a 15-month-old toddler from Kerrville, and for injuring Rolando Santos of San Antonio. She was accused of deliberately administering the children lethal doses of muscle relaxants or blood thinners.
Now 73 years old, Jones was due for mandatory release in 2018 under a Texas law designed to alleviate prison overcrowding. However, to prevent her release, prosecutors charged Jones with the murder of Joshua Sawyer, an 11-month-old baby. In 2020, as part of a plea deal in which four other charges were dismissed, she admitted to Joshua's.
Jeffrey Dahmer, notorious for his gruesome murders, dismemberment, and cannibalism of victims primarily from Milwaukee's community between 1978 and 1991, resided in San Antonio temporarily.
In June 1979, a year after his first murder, Dahmer completed his military training at Fort Sam Houston's Army Medical Specialist Basic Course.
Rodney Alcala, a native of San Antonio, is infamous as the "Dating Game Killer." The" long-haired photographer enticed women in California and New York by offering to photograph them. Alcala was found guilty of murdering six women and one girl in the 1970s.
Investigators suspect that Alcala also murdered Christine Thornton, a 28-year-old pregnant woman from San Antonio. Thornton had left her home in Alamo City with her then-boyfriend, but the relationship had reportedly soured.
Her body was discovered in Wyoming in 1977, but it wasn't until 2016 that her death was connected to Alcala. Alcala passed away in prison in 2021.
San Antonio has also been the venue for the trials of several serial killers. Most recently, former U.S. Border Patrol supervisor Juan David Ortiz was sentenced to life imprisonment without parole after being convicted of murdering four women in Laredo in 2018.