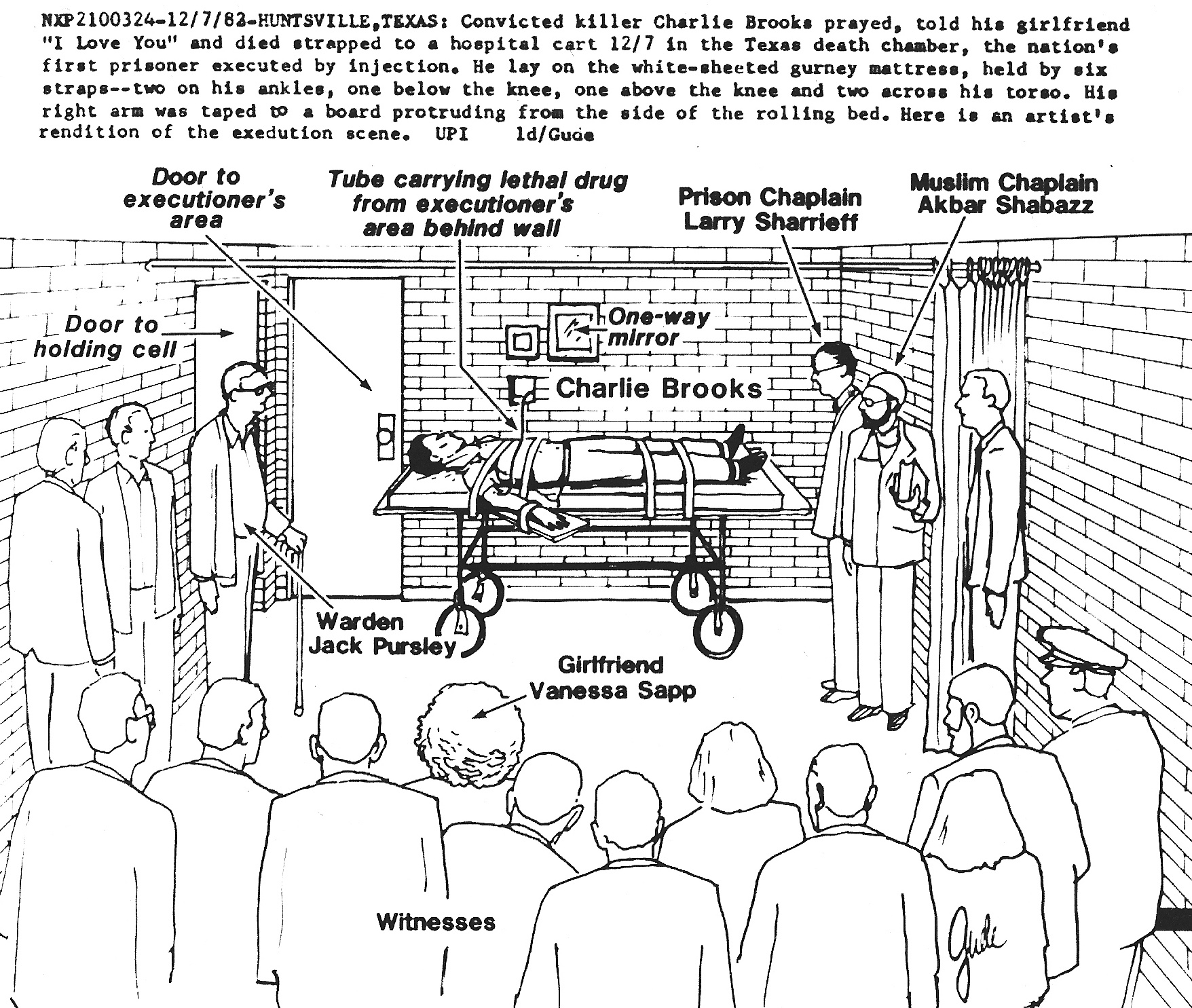 Charles Brooks Jr. (also known as Shareef Ahmad Abdul-Rahim) is executed for the murder of a man, becoming the first person to be executed by lethal injection.
Lethal injection was first proposed by Oklahoma state medical examiner Jay Chapman, who got the idea for a humane alternative to the electric chair while watching a debate regarding Utah's Gary Gilmore's upcoming execution, in which hanging and firing squad were the two options. (Gilmore faced the firing squad on January 17, 1977.) Chapman spoke with Oklahoma Representative Bill Wiseman, who introduced the bill to the legislature. While Oklahoma was the first state to adopt the procedure, Texas was the first to carry it out.
The year before the bill's proposal, Charles Brooks and accomplice Woody Loudres arrived at a used car dealership and asked to take a vehicle for a test drive. On December 14, 1976, the dealership's salesperson happened to be busy and was unavailable to accompany Brooks and Loudres on the test drive.
David Gregory (26) offered to go instead. Gregory was abducted and taken to a hotel in Fort Worth. There, his hands and feet were bound with wire hangers; he was gagged and shot once in the head. "I think the last insult was to turn him over face up and shoot him in the face," Gregory's mother later told reporters.
Both men were arrested and tried separately. Both were convicted and sentenced to death. Lourdes' sentence was reversed later, however, when evidence was presented which suggested he had not been the one to shoot Gregory, and he was given a 40-year term instead.
Brooks, who converted to Islam and changed his name to Shareef Ahmad Abdul-Rahim while incarcerated, was executed on December 7, 1982. His last words were, in part: "Al-Hamdu li-Llāh, Rabb al-calamīn, al-Rahmān al-Rahīm, Mālik Yawm al-Dīn." (Translated: "Praise be to God, The Cherisher and Sustainer of the Worlds, Most Gracious, Most Merciful, Master of the Day of Judgment.") The three chemicals chosen for the first lethal injection were sodium thiopental (a sedative, also known as the so-called truth serum), Pavulon (a muscle relaxant), and potassium chloride (used to stop the heart).
Seven minutes after the procedure began, Brooks was pronounced dead. His death was seemingly not without pain, however. One witness noted, "He moved his head as if to say 'no,'" and Terry Scott Bertling of the Huntsville Item stated he "opened and closed his right-hand several times after the injection began and died with his hand in a relaxed fist."
Brooks' family believed in his innocence, and his wife told reporters, "I just don't believe in the justice system anymore. He was an innocent man. I know that. He didn't do that crime."
Gregory's mother was similarly interviewed about Brooks' execution and her feelings on the matter. "It would be very unfeeling of me to sit up and gleefully wait for the execution of a man. I have feelings also for the people that he's leaving behind in his own family." Along with the compassion she expressed toward Brooks' family, she was firm in her belief in the death penalty. "I would like for the message to be strong and clear that if you kill someone, you pay. He executed my son. I feel if you can execute someone, you should graciously accept your execution."
In recent years, lethal injection has been placed under scrutiny, specifically regarding the idea of it being a more humane option for death. Those opposed to the procedure cite some condemned inmates experiencing "excruciating" pain, some of whom are unable to vocalize their torment due to the paralyzing qualities of the mixture of drugs. Typically, the cause for the malfunction of the execution comes from improper placement of the needles.
Specific cases include Angel Diaz (December 13, 2006), who had the needle pushed through his vein into the underlying tissue, which caused extensive chemical burns; Clayton Darrell (April 29, 2014) whose medical staff could not insert the needle into a vein after nearly a dozen attempts, and was not rendered unconscious by the sedative; and Doyle Lee Hamm (February 22, 2018) who was subjected to multiple failed attempts to find a vein, resulting in the execution being postponed and eventually canceled permanently.
Chapman was not light-handed with his views regarding criticism of his method of execution. "Everything is political correctness, and everyone wants to be a victim today," Chapman said during a 2007 interview. "All of the [sic] sudden, the person on death row is a victim. I reject that thinking, by and large, because these people made choices to do what they did." He added if states are looking for a faster, more painless method, "There is absolutely nothing wrong with the guillotine. An idiot can operate it and is a very effective instrument."