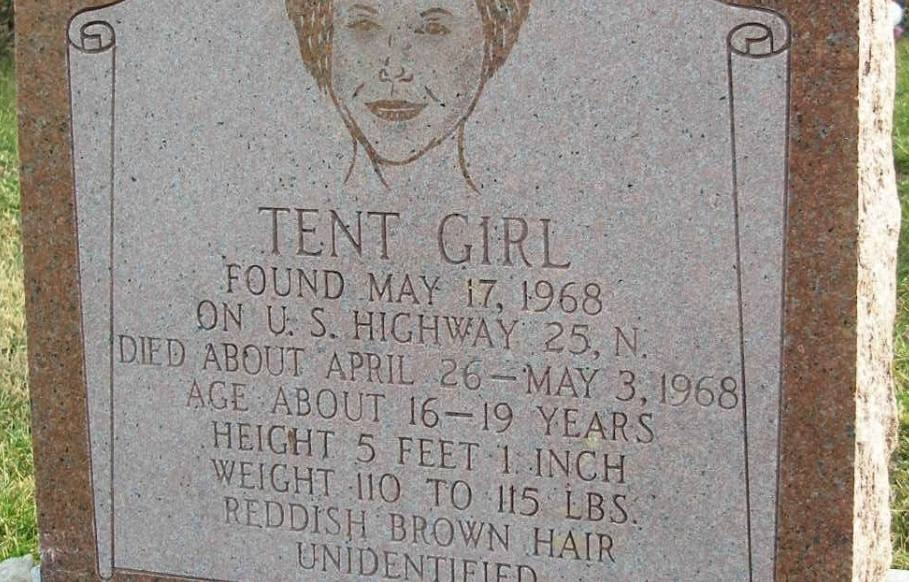 The badly decomposed, nude body of a young woman, initially suspected to be in her late teens, was found by Wilbur Riddle near the side of US Highway 25. She was wrapped in a fabric similar to the kind used to construct large tents. The only other evidence at the scene was a diaper cloth.
The body's state of decomposition and the lack of dental work hindered identification. A sketch denoting a loose approximation of what the Tent Girl looked like in life was distributed along with basic information about her appearance, but the case went cold.
Tent Girl was buried in an unmarked grave until 1972 when a headstone was donated. It included the only information known about the unidentified woman, including the police sketch, the date her body was found, and her general appearance. The gravestone brought attention to the mystery surrounding her death, attracting visitors to her grave and stirring a new interest in her case.
In the late 1990s, an amateur sleuth named Todd Matthews (who also happened to be Riddle's son-in-law) discovered Tent Girl's identity with the help of the Internet. He believed Tent Girl was a 24-year-old mother named Barbara Ann Hackmann Taylor who disappeared around the time of Tent Girl's murder. Additionally, her husband, Earl Taylor, was a circus worker and would have had access to tent fabric, and the couple had an 8-month-old daughter at the time of Hackmann's disappearance, explaining the diaper cloth.
Matthews contacted Hackmann's relatives, Tent Girl was exhumed, and DNA testing between the body and Hackmann's relatives was conducted. The testing proved the body was that of the missing woman.
It is suspected Taylor, who told Hackmann's family his wife had abandoned her family, was responsible for her murder. Taylor died in 1987, however, so the theory could not be confirmed.
After Hackmann's identification, she was reburied and an addition to her original headstone was made to give Tent Girl her name back. Her family, suspecting Taylor's involvement in Hackmann's death, opted to leave his surname off the addition.