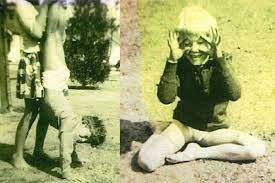 January 14, 1953 Stanley Park, Vancouver, British Columbia. The skeletal remains of 2 children are found.
The skeletons were found with a hatchet, and each bore a wound from the weapon: one from the sharpened side while the other from the hammer end. The bodies were placed side by side and covered with a woman's fur coat, and a woman's shoe was found under their bodies. Also in the scene was a rusty lunchbox, remnants of children's clothing (a belt and 2 jacket zippers), and a pair of leather aviator caps that were popular amongst children during WWII.
Based on the shoes belonging to the children, it was estimated they were killed in 1947, suggested by a theory the shoes, which were made in Asia, would have been imported after WWII was over. Authorities investigating the scene also determined the children were between 6 and 10, one a boy and the other a girl.
Plaster casts were made from the children's skulls to show what they would have looked like in life in an effort to discover their identities and, eventually, their murderer. Though the case was highly publicized and occasionally brought back to public attention, the case went cold.
Vancouver Police Sergeant Brian Honeybourn worked on the case starting in the 1990s. The victims were DNA tested during that time, and it was revealed both victims were male. Honeybourn also cast doubt on the original investigators' timeframe for the murder and considered the possibility they may have been killed earlier. After the DNA testing, Honeybourn took the remains of the boys to be cremated and their ashes scattered. Plaster casts of their skeletons are currently on display at the Vancouver Police Museum (pictured; source).
Recently, Honeybourn, who retired in 2001, has found a report from May of 1944 in which a sailor and his fiancé saw a woman emerge from the bushes missing her coat and a shoe. Honeybourn passed this information on to Vancouver police with the hopes they may be able to check school absentee records from that time, but as of 2014, no further information on the boys' identities has been reported.