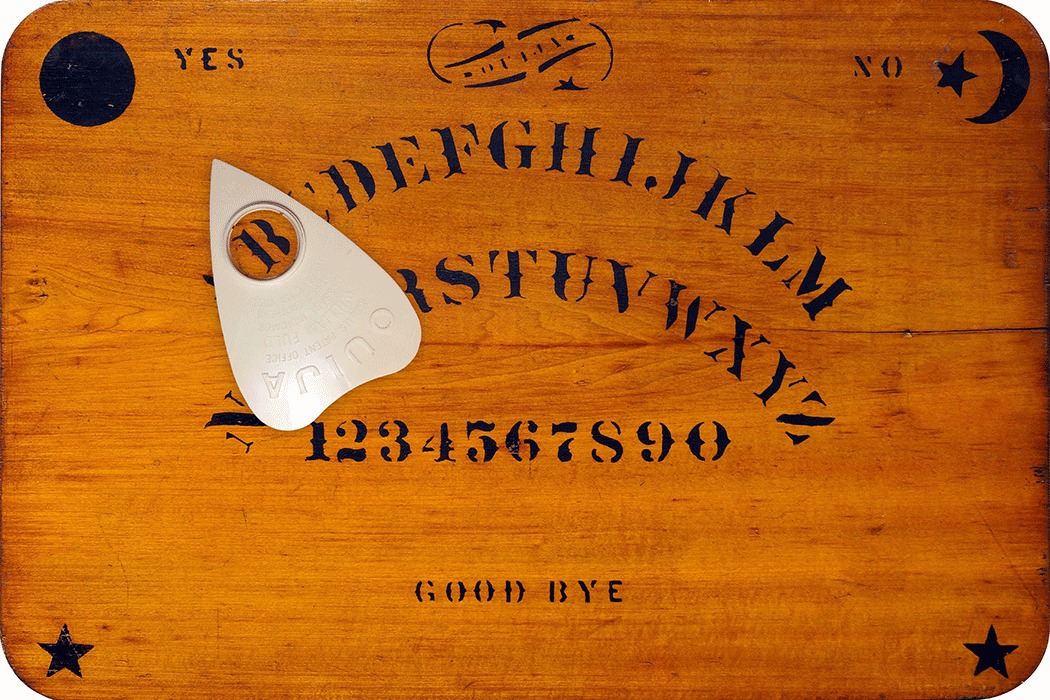 Ernest Turley is shot by his daughter who a Ouija board had supposedly instructed to kill him - The Turley family owned a ranch near St. Johns, Arizona and Ernest was in the ranch's corral when he was shot. His 15-year-old daughter Mattie shot him in the back with a shotgun which she initially claimed was an accident, stating she had been aiming the gun at a skunk when she tripped and accidentally discharged the weapon. Ernest was taken to the hospital, where he died several weeks later on December 26.
Mattie's story did not quite line up with the trajectory of the fatal shot, and she was questioned by law enforcement. Eventually, during the questioning, she admitted to shooting her father on purpose and explained her mother Dorothea Turley, had coerced her into the shooting so "Mother could marry a handsome cowboy."
According to Mattie and her younger brother, Dorothea had often consulted a Ouija board after she had discovered petroglyphs (prehistoric markings, typically on cave walls or cliffs, made by Natives) on a cliff face which Dorothea believed led to a buried treasure. Ernest had used explosives on various rocks on their property at Dorothea's instruction in an effort to find the hidden riches.
Mattie stated during a written statement that she and Dorothea were using a Ouija board together one day when the board seemingly commanded the teen to kill her father. "It was dark in the room," Mattie wrote, "and there was only the shadows from a flickering lamp. Mother asked the ouija [sic] board, 'Shall we kill Father?' and the pointer moved to 'Yes'. Mother asked who should do the killing, and the pointer spelled out my name. Mother said that I must not refuse to follow the command of the ouija or I would suffer terribly."
Mattie pleaded guilty and was sentenced to 6 years in the Arizona State School for Girls. During her testimony at her mother's hearing, Mattie detailed how she had followed her father into the corral, took "careful aim" at his back, and hesitated briefly before she remembered "how much it would mean" to her mother for Ernest to be killed. "Mother told me the Ouija board could not be denied and that I would not even be arrested for doing it," Mattie further testified.
Mother told me the ouija board could not be denied and that I would not even be arrested for doing it.
Dorothea testified she could not have controlled the ouija board and was adamant she did not believe in the power of spirit boards and instead insisted the shooting had either been an accident or was an act of revenge by her rebellious daughter. "Mattie was angry with her father and me," Dorothea stated. "We didn't want her to use rouge or to run about at night with cowpunchers [another term for cowboy] or to cross her legs the way she did or to wear such short dresses. She has been influenced to place the blame for this killing on me because some of the cowboys didn't like me."
Dorothea was convicted for her role in her husband's death and sentenced to 10 to 25 years in prison. She served two years before her conviction was overturned and she was granted a second trial, at which point she was found not guilty. Dorothea attempted to sue the State School Mattie had been sentenced to, claiming the school had "poisoned her mind" against Dorothea. The suit was for $75,000 (roughly $1.4 million today). I could find no record of the outcome of the suit.