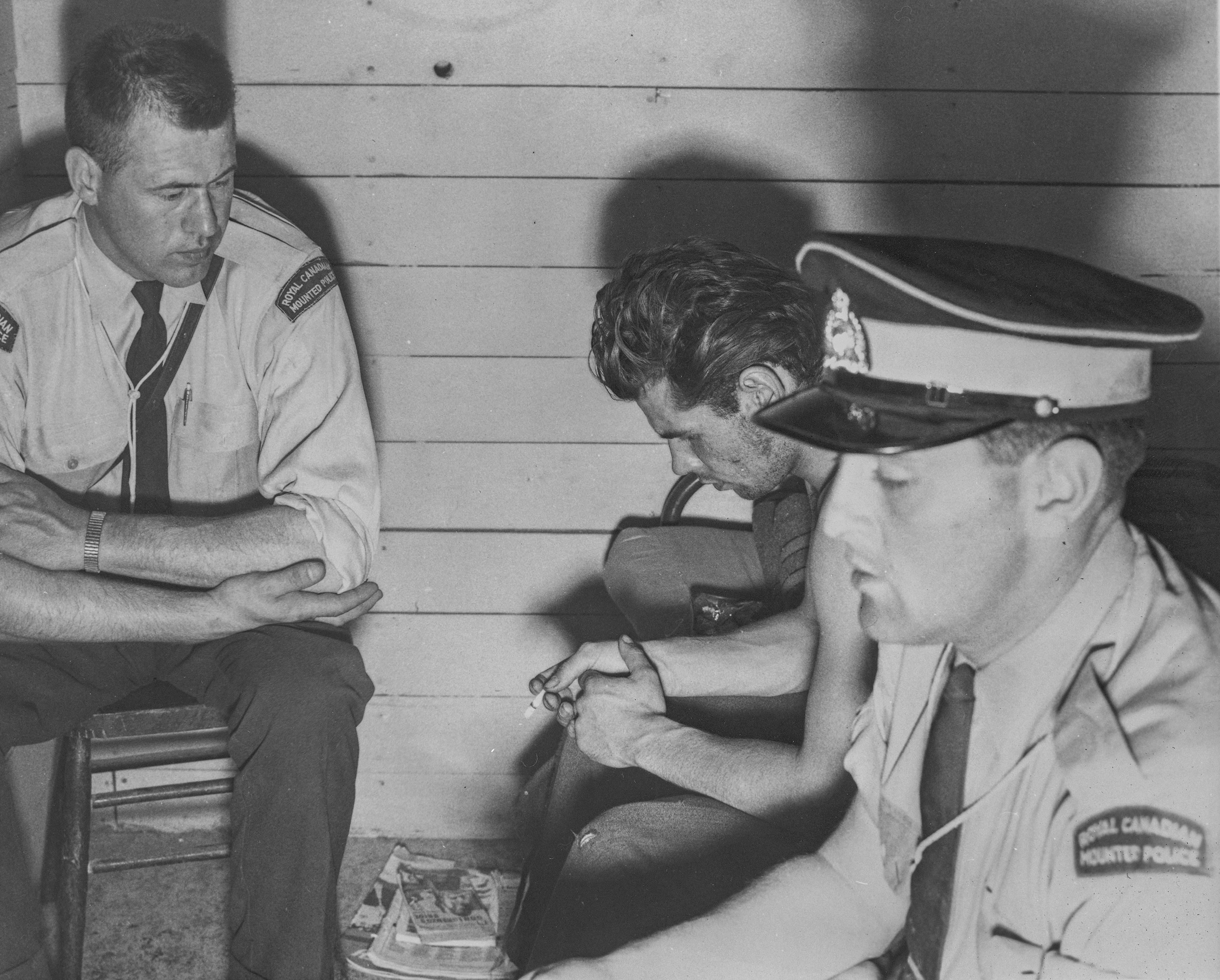 Robert Raymond Cook Jr (23) is hanged for the murder of his father, becoming the last person to be executed in Alberta
On the night of June 27, 1959, Robert Raymond Cook Jr. was arrested on charges resulting from a fraudulent car transaction in which he had posed as his father to trade the family vehicle for a convertible. Police attempted to make contact with Robert's father and stepmother the following morning but received no answer. They then entered the Stettler, Alberta house and found small amounts of blood around the home which had apparently been left behind after larger quantities of blood had been cleaned. The search eventually led to the family's garage.
A pit, approximately 2 feet by 4 feet (61cm x 122 cm) across and 6 feet (183cm) deep, was in the garage floor which Robert Cook Sr. used to dispose of grease during car repairs. The pit was covered with cardboard and wooden planks which were removed during the police's search. Inside the hole were tires and blankets. Further searching revealed the bodies of the Cook family: Robert Sr., 53; Daisy Mae, 37; Gerald, 9; Patrick WIlliam, 8; Christopher Fred, 7; Kathy, 5; and Linda Mae, 3.
The adults had been shot in the head with a shotgun while the children had been bludgeoned to death. All victims were found in their nightwear and blood found on mattresses within the home indicated the family had been killed as they slept. Decomposition of the bodies suggested the deaths had not been recent and were estimated to have occurred on June 25.
A shotgun was found in the home beneath a mattress which was suspected — and later confirmed — to have been used to batter the children to death. The gun did not belong to any member of the Cook family and could not be traced to Robert Jr. Attorney David MacNaughton, who represented Robert Jr. in court, said of the gun: "The barrels were bent. That was from the bashing the children received. It was a disgusting, terrible thing."
Robert Jr. was the immediate suspect as he had no alibi and had attempted to sell his father's car under false pretenses. When he was read his rights during his arrest, "He broke completely … We had to leave him for a while and went back later and explained what the circumstances were." Robert Jr. told the officers, "[I] Just didn't do it – that's all. That's all I've got in the world – what would you think I want to hurt them for?"
Robert Jr. was placed in the Ponoka Mental Hospital to await trial, and his request to attend his family's funeral was denied. He escaped the hospital on July 11 prompting a wide scale manhunt involving aircraft, police dogs, 100 members of the Royal Canadian Air Force, and 70 soldiers from the army. He was apprehended days later and explained he only escaped to visit his family's graves.
MacNaughton noted his doubts of his client's guilt decades later. "He had never been involved [in violence]," MacNaughton said. "None of his criminal record showed violence whatsoever or the use of guns. He was not carrying any gun. There was no suggestion he ever carried a double barrel shotgun." MacNaughton also noted Robert Jr. was found without blood on his shoes, in his vehicle, or on his clothing at the time of his arrest. His hands were also absent of bruising and cuts.
Robert Jr.'s story had changed often during his questioning which, coupled with his lack of an alibi and his reputation as a "consummate" liar, caused jurors to doubt his version of events. The jury deliberated for 1 hour and 20 minutes before convicting Robert Jr. of his father's murder. He appealed and was granted a second trial though this jury returned even faster, delivering a verdict of guilty after 30 minutes of deliberation. The jurors did not recommend mercy on Robert Jr.'s behalf and he was sentenced to death.
As Robert Jr. waited for his execution, some began to doubt his guilt. "Gosh, it's getting harder and harder to see this fellow as a wholesale murderer of his own folks," a prison doctor was recorded as saying.
Robert Jr. insisted on his innocence until his death, volunteering to take a lie detector test and requesting appeals. "My appeal, sir, is not one of mercy for a crime but for time which will reveal beyond doubt my inocence," he wrote in one letter. In another, Robert Jr. noted he felt like a scapegoat. "Something to throw the blame to wiether they actually believe I am guilty or not – like he'll do until somebody better comes along. People can be awful prejudice and blind if they choose to be, just pay no attention to all the evidence which shows I am innocent in favour of guessing me guilty." And when Robert Jr. learned his execution was to continue as planned, he wrote to a longtime family friend, "I just received word that this sentence is to be carried out to-night. I want you to know mom your faith in me was the true faith and not displaced. I am inocent and to-night murder will be committed in the name of the law."
I just received word that this sentence is to be carried out to-night. I want you to know mom your faith in me was the true faith and not displaced. I am inocent and to-night murder will be committed in the name of the law.
Robert Jr. was hanged just after midnight on November 15, becoming the last person to be executed in Alberta.
Robert Jr.'s guilt is still debated. His attorney David MacNaughton, who is now a retired judge, said, "I couldn't have found him guilty if I was the judge," and cited a lack of a motive against his former client.
Malcolm Fischer, a retired teacher and a member of the town council, has been interested in the Cook murders since they occurred, when Fischer was 9. Fischer noted the number of stories Robert Jr. gave to authorities. "He was a charmer and a conscienceless liar who changed his version of things to suit whatever came up." Fischer believes the killings were the result of Robert Sr. changing his mind about moving to British Columbia.