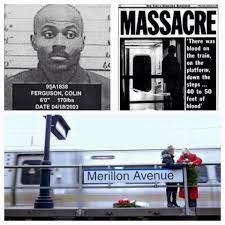 On that fateful day, Colin Ferguson embarked on the Long Island Rail Road, blending into the routine of the daily commute like any other passenger. Little did those around him know that this seemingly unassuming man carried with him a devastating intent that would forever scar the lives of many.
Armed with a 9mm handgun and a staggering 160 rounds of ammunition, Ferguson's actions unfolded in a chillingly methodical manner. With an eerie calmness, he began to open fire on his fellow passengers, a shocking act that left six innocent individuals dead and 19 others wounded. The New York Times would later describe his actions as being executed with the precision of a ticket-taker, adding an unsettling dimension to the tragedy.
It was only through the heroic actions of a few brave passengers that the rampage was brought to an end. Three courageous individuals tackled Ferguson, pinning him to the ground. Others joined the fray, ensuring that he could no longer unleash his deadly onslaught. In that moment, amidst the chaos and terror, the human spirit displayed its remarkable resilience and unity.
During his trial, Ferguson's defense attempted to justify his horrifying actions by invoking the notion of "black rage." They pointed to a piece of paper found on him that referenced "racism by Caucasians and Uncle Tom Negroes."
In a bizarre twist, Ferguson chose to represent himself toward the end of the trial, subjecting surviving victims of the attack to his own questioning. Ultimately, the court found him guilty, and he was sentenced to a staggering 315 years and 8 months in prison, serving as a solemn reminder of the devastating consequences of his actions and the enduring resilience of the human spirit in the face of tragedy.